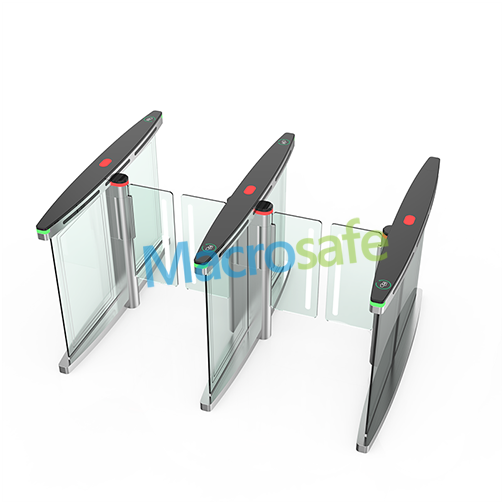 Crystal clear turnstile barriers provide a modern solution to pedestrian access control. These innovative barriers offer a transparent and aesthetically pleasing appearance, while providing a high level of security and control over pedestrian traffic. Among the most popular crystal clear turnstile barriers are the glass turnstiles. In this article, we will discuss glass turnstiles as a preferred choice for organizations looking to enhance their security measures.
Glass turnstiles are one of the most commonly used crystal clear turnstile barriers. They are designed to provide a clear and elegant pedestrian entryway, while simultaneously ensuring strict access control and the highest level of security. The use of glass panels in turnstile barriers provides the benefits of bi-directional or single-directional pedestrian access with high throughput, minimal waiting time, and maximum transparency.
One of the significant advantages of glass turnstiles is their aesthetically pleasing appearance. The sleek, transparent look of glass turnstile barriers complements any architectural style and allows for unobstructed views, creating a welcoming environment that can enhance the user experience. They can be configured in a variety of sizes and shapes to fit a wide range of environments, from office buildings to airports and sports arenas.
Glass turnstiles are highly configurable to meet the most stringent security requirements. They are available in multiple biometric reader options such as touchscreen, fingerprint, facial recognition, and RFID access control systems. The biometric readers can verify the identity of authorized personnel quickly and reliably, ensuring that only authorized personnel are granted access. Glass turnstiles can also be integrated with other security systems, such as closed-circuit cameras and alarm systems. The integration of different security systems provides a comprehensive approach to security and ensures maximum protection of people and property.
Moreover, glass turnstiles can operate in both directions, making them a versatile solution for different environments. For example, in high-traffic areas such as airports or stadiums, glass turnstiles with bi-direction access control are ideal. These allow for a quick and efficient flow of pedestrian traffic in both directions, minimizing congestion and delays.
Glass turnstiles are easy to install, operate, and maintain. They are designed to be user-friendly and require minimal upkeep. They are equipped with features such as sensors and alarms that alert security personnel in case of a breach or a malfunction in the system. Additionally, the glass panels require little maintenance and are easy to clean, ensuring that the turnstiles look new and well-maintained at all times.
In conclusion, glass turnstiles are a highly effective and reliable solution to modern pedestrian access control. They provide an elegant and aesthetically pleasing entrance that fits seamlessly into any architectural design, while at the same time ensuring the highest level of security. The integration of advanced technologies such as biometric readers and the ability to operate in both directions ensures the efficient flow of pedestrian traffic. Glass turnstiles provide a real-time solution by providing an open and transparent view of the pedestrian environment with minimal waiting time. With affordable solutions, they provide a complete package of elegance, convenience, and security. Glass turnstiles are an investment that will enhance the look and safety of any facility, leading to better customer and employee experience, providing seamless in and out, benefiting both public and private sectors.