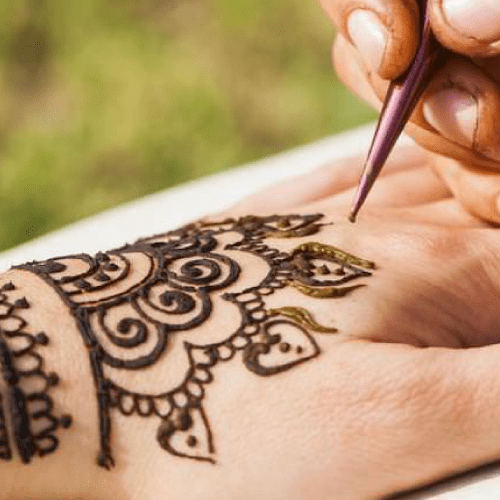 Introduction
Getting a tattoo when you're on vacation or before a fun event may be tempting. If you are undecided about getting a permanent tattoo, consider getting a Henna tattoo. This isn't really a "tattoo" and only stains the skin that you can be removed or naturally fade in a few weeks.
A henna tattoo is a quick and easy way to get body art, as it looks like a real tattoo. One way to experience body art without getting a permanent tattoo is to get a henna instead. You can get your body henna painted in tattoo parlors or booths across the country. It is an Indian dye widely used to make intricate and lovely temporary tattoo designs.
The time needed to get a henna tattoo pattern into the skin varies. The more detailed the tattoo, the longer it will take to complete. A henna tattoo artist can quickly finish smaller tattoos; medium-sized designs take about ten minutes, and full-hand or full-foot patterns take at least twenty minutes. The henna stain could last a few days to weeks before gradually fading, depending on your skin's tolerance on the part of the body where the tattoo is located. The choice of the body area to get your henna done can increase the life of the tattoo. A person's commitment to maintaining their tattooed skin will also affect how long the stain lasts.
Under normal circumstances, the fading of henna stains usually takes one to two weeks on and around the wrists and hands. The henna stains typically last longer, up to five weeks, if you use fresher henna paste and don't wash the specific area a lot. Generally, a henna tattoo will last from a week to a month or two if you don't try to remove it.
What Is Henna
Henna is a dye originating from India, used to create beautiful and detailed temporary tattoo designs. It is a dye or coloring agent extracted from the leaves of the henna plant or Lawsonia inermis.
Natural henna is made up of a tannic dye called lawsone, which gives a red-orange color when applied and is not known to cause allergic responses. However, depending on their skin reaction, some people may experience redness and swelling after using it.
Henna has long been used in Islamic and Hindu cultures to decorate the body for special occasions like weddings or holidays. A henna tattoo is a fun and exciting experience without fully committing to a permanent tattoo because the stains from henna don't penetrate deeply into the skin. It is an easy and less painful way to get inked before getting real tattoos. Additionally, there is no chance of contracting hepatitis or the human immunodeficiency virus (HIV).
IS HENNA SAFE?
For the majority of people, henna is completely safe. However, people with certain illnesses may get side effects. Natural henna, made from natural ingredients, is safe, but chemical henna, usually available online, can be very harmful. Although chemical henna is cheaper than natural, it is extremely dangerous as it causes allergic reactions, burns, and even death.
Henna is perfectly safe for pregnant women and kids as long as the ingredients in the paste consist of natural ingredients and do not contain chemical additives. A physician's advice is also to be considered before getting a henna tattoo for pregnant women.
It is important to ask the henna artist how they make their henna paste and what ingredients are present. If the artist cannot respond, that is a huge warning sign, and you shouldn't use their work. Any natural henna artist knows every ingredient in their paste, typically to the gram. Natural henna paste is only brown and never black or red color. Thus, safe henna should be 100% natural and pain-free.
How Long Does Henna Last
Most people's concern is knowing how long henna tattoos will last before deciding to get it done. If you're looking for a summer-long temporary inking, a henna tattoo may be the right choice.
Different henna tattoo designs require varying amounts of time to be painted into the skin. The process will take longer, the more complex and detailed the tattoo is. Smaller tattoos can be completed in a few minutes, medium-sized designs in approximately ten minutes, and full-hand or full-foot designs in 20 minutes or more.
Getting tattooed with henna generally lasts longer than any other temporary tattoo. It is a coloring agent from the henna plant or Lawsonia inermis and is not like the chemical ink inserted into your skin, which is used for permanent tattoos. However, just like any other dye, it will fade over time.
The henna stain would last a few days to weeks and fade gradually depending on your skin's tolerance to the body part it is painted. The choice of the body area to get your henna done can increase the life of the tattoo. How well a person will take care of their tattooed skin is also a factor in the stain's longevity.
Under normal circumstances, the fading of henna stains usually takes one to two weeks on and around the wrists and hands. The henna stains typically last longer, up to five weeks, if you use fresher henna paste and don't wash the specific area a lot.
Here is a more detailed duration of henna tattoo, depending on the body part it is painted:
The stain will last nearly two weeks when it is located on the back of the hands or tops of the feet.
The stain will last a few days to a week when it is located on the forehead, cheeks, nose, lips, ears, scalp, and neck.
The stain will last 7-10 days when it is located on the shoulder, chest, back, buttock, belly, and upper arm.
The stains will last ten days to two weeks when it is located on the thighs, lower legs, and lower arms.
Henna clarity and duration are usually slightly different for everybody, as everybody's oil secretion within the skin and cell regeneration times are unique.
The henna stains wouldn't last long, depending on a few factors mentioned below.
The henna stains will eventually wash off, but if you expose the tattooed skin to water very often, it will likely fade faster. One example of water exposure that will reduce the longevity of the henna tattoo is when you go swimming frequently.
The henna tattoo will fade when the skin gradually sheds off because, unlike a real tattoo, it only stains the top layer of the skin. If you exfoliate your skin regularly, especially where the tattoo is located, it will likely shorten the life of the henna stain.
Whether you want your henna tattoo for the longest or shortest time possible, the way you care for your tattooed skin will help you achieve your goal and determine how long henna tattoos last on your skin. It is a great choice to try out a tattoo design before permanently inking it.
What Makes Henna Tattoos Last So Long?
A henna tattoo is available to those not ready to get inked permanently. It is a temporary colorant dyed into the skin, unlike real tattoos that involve ink inserted into it. Anything dyed, like the hair or fabric, dyeing the skin with henna will also fade over time. However, henna is one of the longest-lasting temporary skin dyes.
Here are the two main reasons why:
Henna binds itself to your skin
Many plant-based products can dye your skin even when you don't want to. If you've ever cooked, you're aware of how turmeric or beets may change the color of your hands, which requires you to scrub your hands vigorously to get the stains out. Even though these other plant-based dyes work well on the skin, henna has a clear advantage. Henna leaves contain the chemical lawsone, which interacts with the skin.
The henna-based lawsone binds to the keratin proteins in your skin through the Michael reaction, which synthesizes all-natural products. It has two outcomes:
The binding process darkens the dye.
Since the henna is now "bonded" to the skin, you cannot remove it with water. The dye won't fade until this layer of skin is shed.
The Apple effect
A sliced apple will oxidize and turn brown if you set it on a table for a while. While not all plants possess this quality, henna does. The dye darkens over the subsequent 48 hours after exposure to the air. Henna is a long-lasting skin colorant because it increases in intensity. However, unlike other skin dyes that fade quickly with time.
How to Make Henna Tattoos Last Longer
Henna can last longer in several ways. The factors to be considered before getting a henna tattoo that will lengthen (or shorten) the lifespan of the henna stains are listed below.
The location of the Henna Tattoo
The body area with thicker skin, like the soles of the feet, palms of the hands, and stomach, will hold the henna tattoo for a longer time than any area of the body as the levels of dead skin penetrates the dye.
The henna tattoo will last only for a short time and will fade quickly in the body areas with thin skin, like the chest area, the top of the hands, and the feet, which all have the thinnest skin.
Patience is the key.
After getting the henna tattoo done and the paste has already dried, you have to leave it for at least an hour to a maximum of 12 until overnight if you want a darker and more beautiful outcome of the henna tattoo.
Keep it moist
Here is a traditional technique called Indian mehndi tattooing, which uses lemon juice and sugar before the henna paste is left overnight.
Heat (but do not boil) a quarter cup of lemon juice on your stove.
Add and mix three tablespoons of sugar until dissolved in the juice.
Pour it into a small spray bottle when the mixture cools down.
Then gently "mist" the henna paste with the spray. Make sure it is not dripping.
Keep it warm
Here is a technique for keeping a balanced level of warmth in the tattooed area during the first 48 hours after application.
Lightly place a few tissues over the henna tattoo.
Apply heat through a small heating pad; if not available, you can place the tattoo near a heater. Make sure to keep it warm and not hot.
Allow the tattoo to warm up for 10 minutes, and repeat it four times after every few hours for great results.
Avoid too much water exposure.
After getting your henna tattoo done, it is advised not to wash or exfoliate the tattooed area often. You can wash the area using a light touch with low-acidity soap. This method will keep the skin layers and prevent henna stains from fading quickly.
Who should not apply henna?
Applying a henna tattoo is not encouraged in the following group of people:
People with hypersensitivity
Getting a henna tattoo can cause side effects, such as redness, itching, burning, swelling, blisters, and skin scarring, which might be risky for people with hypersensitivity. These allergic reactions often occur due to chemical additives to henna paste ingredients.
People with G6PD (glucose-6-phosphate dehydrogenase) deficiency. Applying the henna paste to the skin with G6PD deficiency might cause a burst of red blood cells.
Children
Henna paste with chemical additives is unsafe for children.
Pregnant and breastfeeding women
Although many pregnant celebrities have already tried natural henna paste as it is considered safe, it is safer to avoid it, as there isn't enough reliable information if henna is safe to apply to the skin when pregnant or breastfeeding.
People with previous allergic reactions to henna
Chemical henna is also readily available in the market, which is unsafe and should never be applied to the skin.
What are the other uses of henna?
Henna can also be used, but it still has insufficient evidence of being useful in the following conditions:
Hair Color And Dyes
It is claimed but has insufficient evidence that henna can improve your hair's appearance, adding shine, luster, and strength to your hair; and hair's health, offering nutrients and protection for the hair and scalp. Henna may work or not on your hair, depending on several factors:
Hair porosity and texture – Henna usually works best on extremely porous hair or especially absorbent hair.
Use Of Conditioning Agents – Avoid protein-rich conditioners, like egg masks.
Application Frequency And Duration – It is suggested to leave the henna on for under an hour on your hair if you have curls or waves. For straight hair, you can leave the henna longer to change hair to be smoother and straighter.
Product Quality – Things to consider in finding the right henna for your hair should be free of PDD (Paraphenylenediamine) and additives and should be safe for the skin.
Allergic Reactions – Allergies can cause irritation and redness on the scalp. Doing a patch test before applying henna to your hair is important.
Dye For Textiles
Henna is also widely used to dye textiles, though there is insufficient evidence about henna being useful as it lacks affinity towards textile fibers and is generally applied in conjunction with metallic mordant.
Conclusion
Getting a tattoo can be a fun and exciting experience, but some people need more time to be ready to have it permanently inked on their skin. There are many options for everyone who wants to get temporary tattoos, but for someone looking for a longer-lasting temporary tattoo that doesn't fade quickly in time; you might consider getting a henna tattoo.
Important factors to consider before getting a henna tattoo are, firstly, knowing it came from natural ingredients extracted from the leaves of the henna plant. Secondly, consider consulting a physician before getting the henna tattoo on your skin, especially for children, pregnant and breastfeeding women, and people with allergies.
Also, you can use tattoo aftercare methods to increase the life of your henna tattoo and prevent it from fading quickly. If you want your henna tattoo to last longer than usual, the given tips and techniques will be helpful for you.