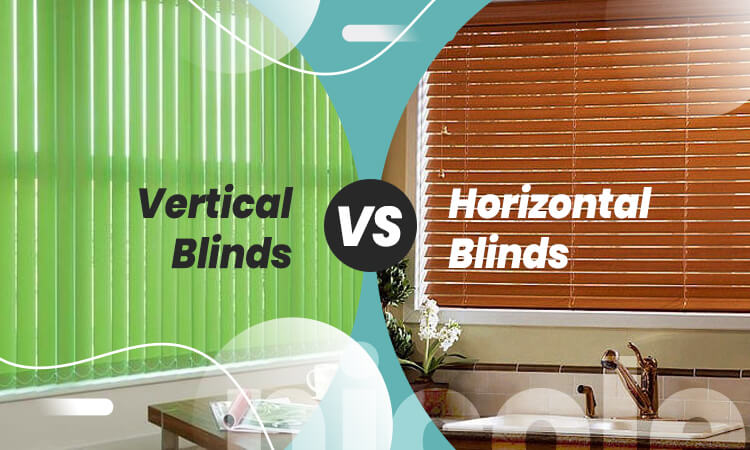 Choosing the perfect window blinds for your spaces like home and offices is very essential nowadays.
These window blinds are a very great source of creating a professional and perfect working environment.
These are the essential changes that every home and office should get in their spaces.
These window blinds are very helpful in attaining the focus of your employees on their work.
Any window treatment should be capable of blocking the sunlight while reducing the glare of the screens.
If you install perfect window blinds on the windows of your office.
Then that casual environment that is created with those blinds will provide you best results.
That is why today we are going to compare two amazing kinds of window blinds that are capable of solving your problems.
Choosing one of them is up to you and for that decision you must know the purpose of choosing them.
Vertical vs Horizontal Blinds:
Due to the variety of advantages they provide, horizontal and vertical blinds are the most common window dressing options.
Two commonalities make them two strong rivals before we discuss their differences.
First off, both horizontal and vertical office blinds are excellent at filtering UV rays.
Which will help you keep the temperature of the space and make it comfortable to work.
Second, both types of blinds may be made from a wide range of materials.
Such as PVC, jute, fabric, vinyl, wood, etc. and this help in expanding their diversity.
So, before choosing one of these window blinds for your office, you must keep some aspects in your mind.
Size of Windows.
Mechanism Operating Method of Blinds.
Decoration Theme of Your Office.
If you keep these three aspects in your mind then you can choose the best option for your space.
Differential Points Between These Blinds:
There are so many differential points present between these two blinds and some of them are as follows.
Compatibility:
The size of your windows has a big impact on the blinds that you are going to choose for your office.
Vertical blinds for offices are more suited if your space has wide and large windows since they open sideways.
On the other hand, horizontal blinds work well with smaller windows because they can be raised and lowered.
Maintenance:
The selection of the proper blinds for the windows of your office is heavily influenced by their maintenance and cleaning.
You must regularly clean your blinds if you want to extend their lifespan.
Cleaning is not a tough chore, but the difference, in this case, is the length of time it takes to clean these blinds.
It takes more time to clean horizontal office blinds than vertical ones.
As the horizontal blinds come with numerous different systems connected, making them more difficult to clean.
On the other hand, vertical blinds are very easy to maintain and clean as they require only a single sweep.
Slats Size:
The vertical window blinds slat sizes are bigger than those of horizontal blinds.
Additionally, vertical blinds slats make contact with the floor while horizontal blinds don't.
So, you may choose which type is appropriate for you based on the environment of your office.
There is a plenty of choices for both blinds available in the market.
So, choose wisely from a wide selection of both vertical blinds and horizontal blinds for your office.
Because these blinds will always help you in improving the aesthetics of your workplace.
Corporate Settings:
It is important to select the greatest and most visually attractive blinds.
Because windows in your office might occupy such a large portion of your wall.
You must thus choose blinds that go well with the interior design and environment of your office space.
This frequently entails choosing neutral colours like white, cream, or beige.
Make sure that whichever solution you choose will fit well with almost any office theme.
In addition to aesthetics, office blinds have the ability to drastically affect your corporate culture.
You may improve everyone's attitude and how they view your organization.
By choosing the proper blinds in terms of style, quality, and pattern.
For instance, vertical blinds in a patterned fabric might produce a more informal style.
As opposed to a neutral, plain design for a more formal situation that horizontal blinds provide.
Privacy:
Although vertical window blinds are efficient at blocking the light.
They are also good in blocking frequently letting in unwelcome eyes that could invade your privacy.
On the other side, horizontal blinds provide superior privacy because they let almost very little light pass through them.
So, with horizontal blinds, there is much less exposure to your commercial space.
Detailing:
Always consider the technical and aesthetic details while selecting blinds.
As both horizontal and vertical blinds have their own significance and specifications.
The specs should detail the widths and lengths as well as the colours, textures, and patterns on the selected material.
These must simultaneously satisfy all requirements for affordability, utility, flexibility, use, and style.
Conclusion:
Window Blinds are essential equipment in offices for a variety of reasons.
Among them include preventing reflections, glares, and shadows, with heat regulation using insulating materials, and controlling light.
Several types of office blinds may help you create a comfortable and productive work environment.
It will all come down to style, function, and specific details in the end.
So, always choose wisely and must keep the aspects in your mind which are mentioned above for both of these wonderful blinds.