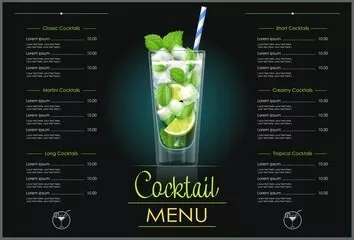 Digital menu boards are the perfect tool for making changes to your restaurant menu with ease and efficiency. The main thing to consider when you're choosing digital menu boards is what you want to change your menu items from time to time and how flexible you want them to be.
Why Use A Digital Signage System?
There's always something new to learn in the restaurant industry, but there are a few things that never change. One of those is menu management. Whether you're managing a single menu or multiple menus, updating your menu on a regular basis is one of the most important things you can do as an owner. It keeps your customers informed and engaged, and helps them decide what they want to order before they even get up from their table. If you run a restaurant, chances are you've been using paper menus for years. But there's an easier way now – digital signage systems! These digital menu boards offer all the benefits of traditional paper menus without any of the hassles.
How To Improve Customer Experience?
1. Invest in a Digital Menu Board System – This will help you update your menu with ease and without having to make any costly changes.
2. Offer Deals – Running specials can be a great way to get new customers in the door, create excitement, and bring repeat business.
3. Promote Your Restaurant Online – Create an online presence for your restaurant by joining social media platforms, such as Facebook and Twitter, or by creating your own blog on sites like WordPress or Tumblr where you can post updates about promotions, events, and new menu items.
You May Also Like:
Advertising With Digital Signage
How To Save Money?
If you're looking for a way to save money while keeping your restaurant menu fresh, investing in an outdoor digital menu board is the perfect solution. These boards allow you to update your menu with the click of a button. Plus, they're easy on your pocketbook with low initial costs and low maintenance costs. Here are some more reasons why digital menu boards are the right choice for your restaurant: It's inexpensive—digital menu boards offer big cost savings on both the initial purchase and upkeep. Digital screens are cheaper than physical ones and updating them doesn't require costly equipment replacements or labor fees.
Why Outdoor Digital Signage?
If you're like most restaurant owners, you know that updating your menu is a constant battle. It's time-consuming and never-ending with customers requesting new items, seasonal changes, or just eating healthier. The only way to get out from under this constant hassle? Digital menu boards! With an easy click of the button on the menu board controller, you can change up your entire menu with no hassle at all. Gone are the days of printing off new menus for every single change – now you can have an unlimited number of menus in a fraction of the time! Plus, it's not just a big-time saver – it also helps boost sales.