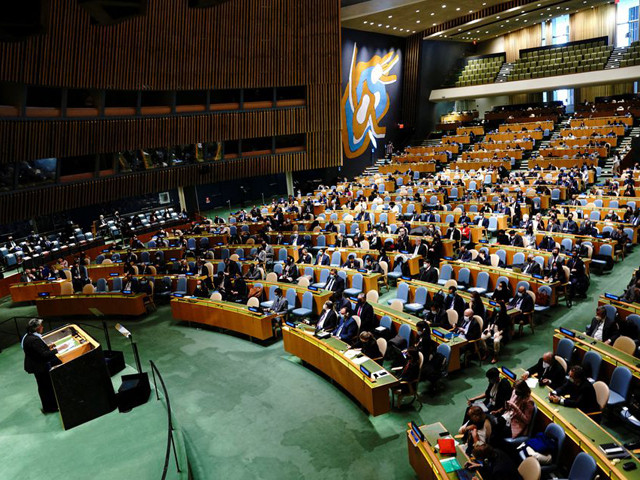 ISLAMABAD:
Despite mounting pressure from the West to condemn the Russian attack on Ukraine, Pakistan's ambassador to the United Nations delivered a carefully-worded speech at the emergency session of the General Assembly on Wednesday, calling for de-escalation of tensions and sustained dialogue.
Ambassador Munir Akram, Pakistan's Permanent Representative at the world body, did address the General Assembly but abstained from voting on a resolution that "deplored" the military action against Ukraine and "demands" Russia withdraw from its neighbouring country.
In his speech, Ambassador Akram did not condemn Russia's military action against Ukraine but emphasised that "Pakistan is committed to the fundamental principles of the UN Charter: self-determination of peoples, non-use or threat of use of force, sovereignty and territorial integrity of states, and pacific settlement of disputes".
He did not mention Russia in his speech, where he also stressed that Pakistan upheld the "principle of equal and indivisible security for all" in a statement that appeared to refer to the concerns of Russia that led to its military offensive against Ukraine.
Russia had sought guarantees from the West and the US, calling upon them not to expand NATO and avoid conducting military drills at its borders. But the US and its Western allies had turned down both the demands, leading to the collapse of diplomatic efforts.
Ahead of the UNGA emergency session, first in two decades and 7th overall, Pakistan was asked by the members of the European Union, the UK, Canada, Australia, Japan and other countries to vote in favour of the resolution against Russia. But Pakistan resisted the pressure and opted to abstain from voting in order to maintain a fine balance in the Russia-Ukraine conflict.
Without explicitly saying, the Pakistani envoy also referred to selective application of the UN Charter and international law. "These principles must be consistently and universally respected," Ambassador Akram stressed in an apparent reference to an indifferent approach by the Western countries towards the plight of Palestinians and Kashmiris. raed more