A medical laboratory scientist (MLS) or clinical laboratory scientist (CLS) or medical technologist (MT) performs diagnostic testing of blood and body fluids in a clinical laboratory.
Medical laboratory scientists are disease detectives. 70-80% of all medical decisions are based on the work we do, yet patients, doctors, and nurses never see us. When your doctor says: We are going to run some tests. Medical laboratory scientists are the ones who run those tests and get the results to your physician.
Medical Laboratory Scientists are responsible for a wide variety of tasks in the hospital laboratory. Their testing skills and diligence toward accuracy create a quality testing environment. Although MLS professionals routinely perform tests and analyze results, their daily tasks involve much more.
If you're interested in a career as an MLS in a hospital laboratory, you'll want to be aware of the breadth of their professional responsibilities. In researching this career path, please note that some hospitals still use the term Clinical Laboratory Scientist to refer to an MLS. Learn about the day-to-today duties of an MLS to determine if this specialized role is right for you.
MLS Duties
The tasks an MLS performs will depend in part on whether they are an MLS generalist or if they have education and experience in a specialized area of the laboratory. Most Medical Laboratory Scientists begin their career as an MLS generalist, as bachelor's MLS degrees equip students to pursue this career after graduating and gaining national certification. The below duties are typical for all MLS careers, though a specialized MLS will have additional duties tailored to their distinct role.
Testing and Analysis
The primary job of an MLS is to perform medical testing. Daily duties include diagnostic testing of tissue, blood, or other bodily fluids. In most hospital settings, an MLS does not collect specimens; rather, their role begins after they receive them in the lab. It is essential that the MLS maintain the quality of each specimen, as improper collection or handling can distort test results.
After conducting a test, the MLS will analyze the result and ensure accuracy. The MLS will then record the test results and deliver them to the physician. At this point, the physician will communicate results to the patient; the MLS then moves on to conduct testing for other patients. Although the MLS does not meet with patients directly, their work supports a patient's medical journey and health awareness.
Utilizing Equipment
A large part of the MLS' role is utilizing medical equipment and technology to perform testing. Depending on the type of test being conducted, a variety of equipment may be used. This includes microscopes, incubators, cell counters, centrifuges, and hematology analyzers. Some tests require the use of computerized instruments or automated equipment. For this reason, good hand-eye coordination and motor skills are essential.1
Record Keeping
In addition to performing testing, record keeping is also an important daily task. Medical lab scientists must be competent with computers and data systems. The test results must be recorded into a data system and entered into the patient's medical records.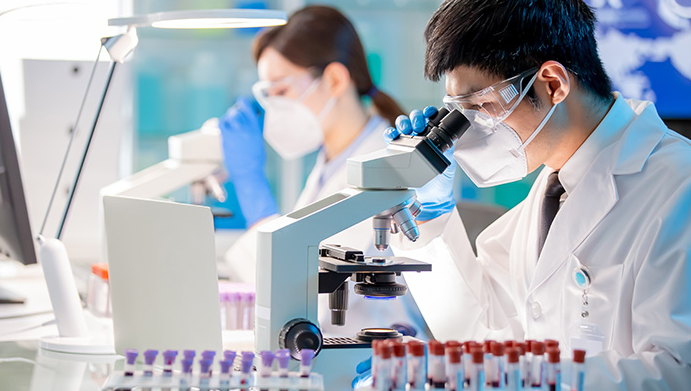 Specialized MLS Responsibilities
During your career as a Medical Lab Scientist, you may choose to enter a specialized MLS role in the laboratory. The opportunities for specialization are vast.
Specialized MLS areas include:
Bone marrow collection
Hematology
Coagulation
Toxicology
Immunology
Immunohematology
Microbiology
Additional certification may be required, depending on the area of specialization.
Work Environment
In addition to understanding the daily tasks of an MLS, it is important to be familiar with the work environment. Medical Laboratory Scientists are heavily employed in a hospital laboratory, though some seek employment in other lab or clinic locations. 
Although an MLS does not work directly with patients, you can expect daily face-to-face discussions and interaction with coworkers. An MLS performs most tasks independently, but communication and collaboration are still integral to success in this role.
Medical Lab Scientists also utilize the telephone as well as email every day. You can expect a great deal of freedom to make decisions, while still having the opportunity to consult coworkers and other laboratory professionals for advice when needed. An MLS bears considerable responsibility for quality of work and is expected to wear common safety equipment.2
Professional Development
Part of being a laboratory professional is continuing to grow in the field. Medical Lab Scientists should work to develop their knowledge and skills through professional development opportunities. By taking advantage of professional development opportunities, an MLS can ensure up-to-date laboratory practices, research methods, and testing skills. If you want to pursue a career that supports life-long learning, the MLS role can provide this.
Are medical laboratory scientists in demand?
As the need for laboratory diagnostic procedures increases, medical laboratory scientists and other laboratory professionals are in high demand. The Bureau of Labor Statistics (BLS) projects employment for medical laboratory scientists and other lab professionals to grow faster than average through 2030. Read more here!