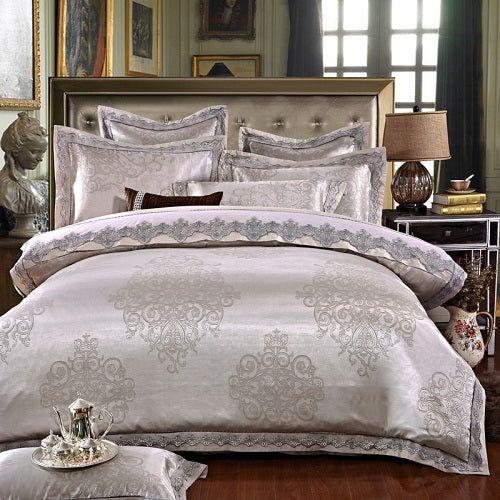 You spend one-third of your life in bed; thus, you should be careful about the bedding you choose. While cotton has a reputation for being comfortable, silk sheets are highly known for their sustainability, health, and durability. 
Silk is one of the textiles that is linked with luxury bedding. Mulberry silk sheets and pillowcases are becoming increasingly popular as they have many benefits over other fabric types.
Let's read about each fabric in depth to understand better why switching from cotton to silk sheets is best for your overall health. A few factors need to be considered when deciding between silk and cotton bedding.
Why Choose Silk Sheets Over Cotton Sheets?
Allergen-Free

–

Silk sheets

have hypoallergenic properties. Dust mites, germs, fungi, and mould cannot survive on silk. Silk does not become wet since it wicks away moisture. Cotton, which absorbs moisture and retains it for a long time, is one fabric that might serve as a breeding ground for bacteria. As a result, those with delicate skin and those who are prone to allergies should consider silk.

Material

– Silk has a delicate, silky feel, and because there is little friction, the skin moves smoothly across the cloth. Unlike cotton, which causes friction and pulls and tugs at your skin and hair while you sleep and may shift around, silk bedding allows you to sleep comfortably. Additionally, silk has a natural sheen that gives it an upscale appearance and is more resilient than cotton.

Care

– Silk may appear to be a delicate fabric, yet it is strong and resistant to many things that could harm other fabrics.

Silk sheets

only need a little extra upkeep and care than cotton sheets because of this characteristic, which makes them last longer. Silk is a fantastic option because it requires less cleaning and keeps its freshness long.

Temperature Regulating

– As a layer of warm air between you and the outside world, silk can regulate temperature, keeping you warm in the winter and radiating extra heat in the summer. Silk keeps your body at the ideal temperature all year long, allowing you to sleep easily. The instance of cotton does not include these advantages.

Cost

– Silk is a more expensive fabric than cotton since it is a more opulent and delicate material. It makes sense when considering silk as an investment over the long run.
Best Quality Silk Sheets
Studying the benefits of silk, we found Mayfairsilk to be one of the best companies for providing Mulberry Silk sheets of the highest calibre. 22 momme of 6A quality silk is use for the ideal weight and feel. Because their fabric is OEKO-Tex Standard 100 Certified. You may be certain that no dangerous chemicals were utilize in its creation. The silk's hypoallergenic and thermoregulating properties ensure maximum benefits from the fabric. They provide housewife-style and envelope-style pillowcases.
They are a UK-based company that is rapidly growing to strengthen. Its operations in the Middle East, the US, and the surrounding areas. You can find them at Palace Vendome Qatar, Dubai Mall, Mall of Emirates and Mirdif City Center).
They ship their silk goods, such as silk pillows and silk sheets, to 32 countries from their warehouse in the UK in lovely gift boxes 
For more information, you can visit https://mayfairsilk.com