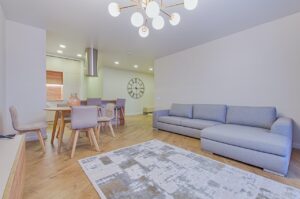 Creating a home that reflects your style is no easy task. It requires time, money, and patience. However, there are many ways to change the look of your home without breaking the bank. Subtle changes like adding accent walls, changing out light fixtures, or introducing new lighting can add visual interest to your home and create a whole new look.  
To help you pave the way to a more modern home, here are our top 5 tips on how to transform your home!
Dark Wood Fireplace
If you have space, a wood fireplace is a great way to change the look of your home. A fireplace brings coziness to a room, of course, but it can also be functional. If you already have a fireplace, now is a great time to replace it with a dark wood fireplace. Wood fireplaces are stylish and add warmth, charm, and personality to any home.   
However, finding the right fireplace for your home and lifestyle can be challenging. Luckily, there are a variety of styles, sizes, and materials from which you can choose. Simply pick a fireplace style that fits the overall aesthetic of your home. Be sure to determine the size you want before you buy it.  
New Lighting
Replacing light fixtures is an easy way to freshen up the look of your home. This is especially true if you want to say goodbye to the trendy Edison bulb look. You can create a warm, inviting atmosphere with brass or copper lamps. Chrome or aluminum lights are a good choice for a more modern space. Gold, antique or vintage fixtures are a good choice if you install chandeliers. They'll add character to your room and make it feel like a home. 
When shopping around for new light fixtures, keep three things in mind: the purpose of the room you want the lighting in, the size of the room, and the style of the room. Buying a new light fixture will be easier if you know these three things. 
Art
If you're using blank walls as part of your decor, it's time to change it with art! Art pieces are great to add personality to a space and make it more individual. Adding a piece of art that represents your home's aesthetic will give you a unified look.  
That doesn't mean you spend a fortune on art, though. You can find great pieces for well under $100. You don't have to limit yourself to canvases. If you have a wall that needs to be filled, you can also opt for tapestries, posters, and framed prints.
Many people also choose to frame photos to enhance a room with art. If you decide to go this route, make sure you frame your picture in an interesting way that adds visual interest to the room and makes the photo stand out.  
Alternatively, a great drawing on the wall can make for a cool makeover. If you can draw, pick a theme and design and cover your wall with a painting or graffiti. You can also hire someone with talent to do it for you.  
When you buy a piece of art, go for classic style and neutral colors. That way, you can change the artwork later without worrying about it clashing with the aesthetics of your home. 
New Carpets 
Replacing carpets is a quick and easy way to improve the look and feel of your home. Carpets come in many styles and patterns. So, make sure you choose the perfect carpet for your home!  
For a traditional look, it's best to choose a carpet in a neutral color. A patterned rug is an excellent choice for creating a modern space. But a patterned carpet in a neutral color is a good choice for a neutral room. In contrast, a bright-colored patterned rug is excellent for a more contemporary room. 
Add An Accent Wall
An accent wall is excellent to add visual interest to your home. If you have a room that seems dull, an accent wall is a sure way to spice it up with a color that matches the aesthetic of your home. You shouldn't choose a color that clashes with your current space.  
 If you want your accent wall to be an anchor in the room, choose a bold color. For a more subtle accent wall, a neutral color is a good choice. 
Conclusion 
Now that you know five things that can change the look of your home, you can start making subtle changes that will take your home to the next level. From changing out old light fixtures to hanging new artwork, these five tips are a great start to upgrading your home. Now you can enjoy a home that looks brand new without costing much. 
Also Read: Who is Nicole Junkermann Mary Barra